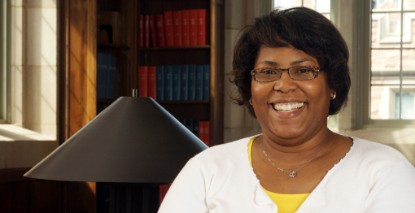 Dr. McCoy is an Assistant Professor at the Jane Addams College of Social Work (JACSW) at the University of Illinois at Chicago. She has a Master of Social Work (MSW) from the University of Pennsylvania, a Master of Jurisprudence (MJ) from Loyola University Chicago, and a PhD from the George Warren Brown School of Social Work at Washington University in St. Louis. Dr. McCoy's research is three-fold.
First, she focuses on the intersection of mental health and juvenile delinquency, particularly for African American males. In 2008, her dissertation was funded by the Fahs Beck Fund for Research and Experimentation. Her study included primary data collection from two Midwestern detention facilities obtained from 90 Black and White juvenile offenders age 12 to 17. She examined the measurement equivalence of the Massachusetts Youth Screening Instrument version 2 (MAYSI-2) and subsequently made recommendations regarding how to strengthen the instrument's screening abilities. In 2009, she was funded by the Robert Wood Johnson Foundation, New Connections program for a 25-month study titled A Strategy for Promoting the Mental Health of and Decreasing the Negative Trajectories for Juvenile Offenders in the amount of $75,000. She was later funded as a Faculty Fellow for the 2013-2014 academic year by the University of Illinois at Chicago, Institute for Research on Race and Public Policy to continue that research. That research uses historical data from two Midwest detention facilities to better understand the realities, experiences, and trajectories of youth with mental health disorders in the juvenile justice system.
Second, effective May 16, 2015 Dr. McCoy became the new principal investigator for 3/40 BLUEPRINT: Creating the Blueprint to Reduce LGBTQ Youth Homelessness. The $1,050,000 project is funded by the U.S. Department of Health and Human Services Administration on Children, Youth and Families through September 29, 2016 (Dr. Alan Dettlaff was the original Principal Investigator for the project; he selected Dr. McCoy to continue its leadership when be became the Dean of the University of Houston School of Social Work. ) The project seeks to facilitate positive outcomes for LGBTQ homeless youth by conducting a systematic review of existing literature; a comprehensive needs assessment; and a systematic identification and analysis of screening and assessment tools and existing and emerging practices for Runaway and Homeless Youth providers.
Third, on January 1, 2016 she assumed the role of principal investigator of the National Institute of Justice funded study Understanding the Violent Victimization Experiences of Young Men of Color. The cooperative agreement is a 3-year, national study funded in the amount of $1.5 million dollars. The project will fill the gap in our knowledge base about the violent victimization experiences of young Black males ages 18 to 24. With her co-investigator, Dr. Timothy Johnson, Director of the Survey Research Laboratory at the College of Urban Planning and Public Affairs at the University of Illinois at Chicago, and his team, they will create and pilot test an instrument that measures such experiences, as well as identifies the coping skills and types of supports used by the young men.
As an extension of her work about Black boys men, and the confluence of mental health and juvenile/criminal justice, she is also the Co-Principal Investigator with Drs. Otima Doyle (JACSW) and Von Nebbitt (Brown School, Washington University in St. Louis) on the $40,000 RISE funded project Criminal Justice and Mental Health Interventions and Promising Practices for Black Boys and Men: A Synthesis of the Literature and Exploration of Stakeholders Perspectives. This project is field scan which will focus on the confluence of criminal justice and mental health for Black [i.e., African American (including first-generation) and Caribbean American] boys and men (including fathers). We will explore fathering interventions that can strengthen criminal justice and mental health outcomes. Our multi-prong focus will increase our ability to identify the state of the literature about existing policies and practices impacting Black males across multiple developmental stages. We will use an integrated model that: acknowledges the impact of our country's social stratification on Black boys and men of color, on their wealth and health, interactions with the juvenile and criminal justice system, educational outcomes, and ability to parent and borrows from the structural racism and social determinant of health perspectives.